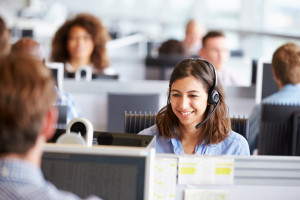 Call center data and analytics is becoming the driving force behind improving call center efficiency and the customer experience. Famed business consultant Peter Drucker famously stated that, "…the purpose of a business is to create and keep a customer." While Drucker was a well-known commentator and philosopher of human behavior and business trends, he might not have been able to predict just how hard it would be for organizations to follow his advice. And call centers are probably more aware of the challenge to keep customers happy than other departments within organizations as it is their primary focus.
Data is now the center tool used by almost every industry and department. According to Gartner, by 2020, 20% of companies will dedicate workers to monitor and guide neural networks that specifically deal with customer service and contact center issues. Gartner's research states that "CIOs must evolve their workforce — and strategic partnerships with service providers — if they are to achieve sustainable change in the disruptive era of smart machines."
So where do these "smart machines" come into play with contact centers? Google's Speech API is driving a wave of innovation in using speech recognition, transcription, call center data and analytics, and neural processing that gives call centers advantages in how they process customer information and deliver a better user experience. Here are a few exciting ways that the customer service and collections industries are using Google Speech API to deliver real-time data and analytics to take immediate action for their business today.
Using Call Center Data Analytics for Call Centers / Contact Centers
Customer service teams are judged by how effectively they solve the needs of customers through phone interactions and how quickly and efficiently they can complete that task. This can be complex as customers don't always adhere to a commonly accepted taxonomy that categorizes their issues and helps navigate through a uniform decision and communication tree.
Research from DMG Consulting estimates the number of call center seats estimated to grow by as much as 24% by 2020, call center leaders know that the sheer volume of output required of them could quickly become overwhelming. They are dealing not only with a massively wide range of issues, languages, and sentiments, but they also have to be able address and solve these issues in a real-time manner. The Speech API provides the basic technology foundation on which call centers and collections companies can deliver a better user experience and resolve issues with a higher degree of satisfaction for both the enterprise and the customer.
Google Speech API can deliver call center data and analytics by transcribing calls in near real-time and initiating processes that immediately address customer issues. Once text from a call is transcribed, key words and phrase identification are triggered to gauge sentiment and the quality of the call, and even flag and escalate calls immediately. Specific and contextual response scripts can then be given to reps, or the call can be automatically routed to a department that can deliver the right feedback.
The Speech API can also be used to identify key words, such as "payment" to give the rep canned notes to shorten note taking, hold time, and time between calls. Having issues with a certain area but can't pinpoint the root cause? Or want to figure out a pattern in calls that eventually go to collections? Google Speech API can take that information and heat map words and identify patterns to help you start flagging high-risk calls early.
Improving Collections Performance and Early Recovery
Slow payment and loss of fees from delinquent payers can have major negative consequences for enterprises. Revenue is typically accounted for upon point of sale, and the corresponding fees tend to be factored into projections. The lack of that revenue, coupled with the cost of collecting it, can be damaging to an organization's bottom line.
The Google Speech API is an important tool by which businesses can deliver meaningful relationship with customers, but also protect their bottom line by identifying speech patterns in accounts that eventually lead them to collections. Because the Speech API can understand and transcribe human spoken communication, it can detect specific words that assess a customer's likelihood of lapsing on their payments by leveraging call center data and analytics. Companies can automatically initiate scripts and escalation steps so reps can quickly rectify these issues and reduce potential losses by encouraging alternative payment remediation plans.
Call Center Software and Solutions Providers
Google's Speech API is an important tool by which call center software and solutions companies can deliver a blueprint for excellent customer service to their clients by leveraging their own solutions with the speech and data. There are many solutions providers that need audio files to be transcribed in order to apply their algorithm or program on call center data and analytics, and Google's Speech API provides that near-real time transcription in over 80 languages. This also applies to interactive voice response (IVR) tools that need to understand human speech in order to provide the responses and protocols for the services they provide to call centers. Google's Speech API provides in input (the transcription) and the solution provider or IVR provides the output.
Contact SADA Systems to learn more about call center data and analytics and integrating Google Speech API to enhance your call center or call center product today.